Ultimate Movie Marathon: Classic All-Stars 4-Pack
Ultimate Movie Marathon: Classic All-Stars 4-Pack
Year:
Studio: Western Visuals
Starring: Nina Hartley , Christy Canyon , Seka , Lisa De Leeuw , Honey Wilder , Jacqueline Lorians , Heather Wayne , Jennifer West , Gina Valentino , Amy Rogers , April Maye , Rikki Blake , Tess Ferre , Sherry St. Claire , Jade Nichols , Tom Byron , Herschel Savage , Joey Silvera , John Holmes , Kevin James (II) , Tony Martino
Length: 5 hrs. 14 mins.
Genre: Boxed Sets, Classic
Includes:

Tracy in Heaven: Dead and gone to heaven, Tracy is a devilish angel enjoying more sex in her new life with the hottest friends. This is a classic film sure to bring the pleasures of the heavens!

Kiss of the Gypsy: A tarot card-reading gypsy holds sway over the sex lives of unsuspecting men and women.

Passion Play: The legendary John Holmes stars as a frustrated pool cleaner, who one dreary afternoon stumbles across a luscious nymphette lounging by her pool, desperately craving his services. Her sexual appetite is non-stop, and after her French maid joins in, the three discover what an afternoon delight is really about. Inside, the action is equally steamy as the buxom DDD-cup doll Lisa DeLeeuw graciously greets her lover and his buddy, who are ready to mercilessly ravage her. The scorching sexations continue as all the players move their erotic interludes into the pool, creating a spectacular water orgy. Many more surprises await you as Jennifer West and her friends star in a truly delightful appetizer of erotic energy!

Heavenly Desires: Heaven Never Looked Like This Before… and Won't Ever Again. Two dead hookers are given a second chance. Their ghosts return in order to prove their worthiness to enter hooker heaven.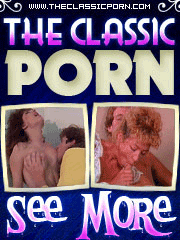 The Classic Porn is, dare I say it, a classic retro porn site. This really has been superbly put together – and when this network is required to bring together this type of non-exclusive video site, it really does manage to do it far better than it does for any of its other sites.