Rock-O-Rama
Rock-O-Rama
Year:
Studio: Alpha Blue Archives
Starring: Tina Russell , Jamie Gillis , Marc Stevens
Length: 3 hrs. 9 mins.
Genre: Classic
This place may be a bit tough to find, but people drive in from all around to see our shows. Long haul truckers, traveling salesmen, spurned husbands…they all know the place. Those bikers over there? Harmless, though I suggest you don't stare. Keep your eyes on the screen, which shouldn't be hard. You will see the steamiest, fleshiest, and most triple X-rated films direct from California and New York City. Popcorn? Sorry, I don't think that machine works anymore. Welcome to the Dirty Drive In.

For this evening's entertainment, we offer 3 films that take a very close look at what goes on behind the scenes of today's famous rock music acts. Joe Rock Superstar (1976, 68m) follows the erotic exploits of a rocker with a 9 inch instrument. The all star cast of this Shaun Costello film includes Tina Russell, Marc Stevens as Joe Cock, and Jamie Gillis as the drummer! Gladys and Her All Girl Band (1976, 60m) is another Shawn Costello jam, this time showcasing the double penetration of Terri Hall and the deep oral skills of C.J. Lainge! What's Behind the Groupies (1975, 60m) follows a big-titted young woman backstage to see what she will do to meet her favorite stars.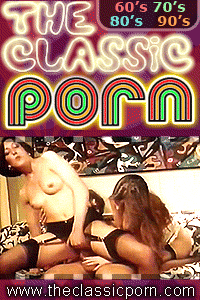 The porn industry really hit its stride in the 1970s. Deep Throat made gobs of money at the box office, John Holmes was fucking his way through the babes of the business and everyone was happy. They were pioneering the business of people screwing on film and there was a huge market for it. They made some terrific porn back then and there are now numerous sites dedicated to preserving that porn for use by future generations. The Classic Porn is one such site.