Robert Kerman
Date of birth: 16 December 1947
Alternate Names: Richard Balla , R. Bola , Richard Bola , Gianturo Bolla , R. Bolla , Richard Bolla , Robert Bolla , Richard Bollar , R. Bollo , Richard Bollo , Robert Brown , Robin Hoock , Bob Kerman , Robert Kerns , Robert Kerr , Richard Lair , Harold Monroe , R.Bolla , Neil Ronds , Sam Speed , Martin Spellman .
Bio: Robert Charles Kerman was born on December 16, 1947 in Brooklyn, New York City. His father was a pickle maker and his mother did book-keeping for the family business. He grew up in a in a middle-class Italian-Jewish neighborhood of Bensonhurst, sharing a two-family row house with his aunt and parents.
Kerman first became interested in acting during his freshman year while attending Lafayette High School. During his senor year, he enrolled in a drama class and found another incentive to pursue acting: acting with girls which he pursued relationships with a few of them.
After graduation, Kerman enrolled at Brooklyn College to earn a Bachelor's Degree and where he acted in over 30 plays the university put on. Kerman recalled that his first year at Brooklyn, he didn't act for there were a lot of required courses to take before acting came. During his second year, he took acting classes at night school. He also went to the American Academy of Dramatic Arts where he appeared in numerous plays. During his final year at Brooklyn College, Kerman met the chairman of the acting department, Wilson Lehr, who had him audition for the play 'Look Back in Anger'.
Kerman began acting in many off-Broadway shows in both Brooklyn and Manhattan from local productions of 'Cat on a Hot Tin Roof', 'A View From a Bridge', 'Camille', 'The Knack', 'Joe Egg', and many comedies, dramas, in lead and supporting parts. Following graduation from Brooklyn College in 1970, Kerman went off on his own to pursue acting. He took odd jobs from a Good Humor ice cream truck vendor, to driving a taxi to support himself since acting did not pay much at all.
Kerman become involved in the underground adult film business in the mid-1970s playing non-sex roles for $100-a-day. He first appeared in performing on-screen sex in 1974 with director Robert Findley's 'Anyone But My Husband' playing the lead role of the snobbish husband of C.J. Laing. Kerman was at first very uncomfortable with the sex, first performing with Susan Sloan as a nude-able babysitter in that film. When producers for the porn films asked Kerman to create a 'nom de porn' name for himself, a stamp on a cardboard box of Bolla wine inspired Kerman to create his porn acting name of 'Richard Bolla'. He later shortened it to 'R. Bolla' to lessen people calling him by his Richard nickname of 'Dick'. He even briefly took the name 'R.C. Bolla' for his middle name of Charles, but quickly dropped it.
Kerman's porn career flourished during the middle and late 1970s, and early 1980s, with him acting in over 100 X-rated, hardcore porn films in lead and supporting parts. His dramatic acting talent made producers cast him in porn films with actual plots and stories which made him a valuable commodity as porn film makers sought to make story-driven feature films that could compete with mainstream movies. Kerman worked for many adult film makers on the east and west coasts ranging from Gerard Damiano, Robert McCallum, Henri Pachard, and other port auteur, performing with such starlets as Seka, Vanessa Del Rio, Jennifer Welles, Ginger Lynn, and Veronica Hart.
Mainstream acting continued to remain Kerman's true desire and in between porn roles, tried to pursue work in mainstream films. In 1979, Kerman was introduced to Nino Masini, an Italian production manager who was filming a B-movie in New York. Their association led to Kerman appearing in a small part as an air traffic controller in Ruggero Deodato's The Concorde Affair (1979). Deodato's then cast him as the lead role in his notorious film Cannibal Holocaust (1980) which was filmed in New York as well as on location in the rain forests of Columbia and Venzueala, which was an interesting experience for him in acting on location and of the Italian film making business.
Afterwards, Kerman was cast by Italian director Umberto Lenzi for another lead role in an jungle cannibal film titled Mangiati Vivi (1980), which he played a rugged adventurer and trail guide which was filmed in Sri Lanka.
Although Kerman wanted to continue working in Europe for Italian film productions, it was not to be. After signing a contract to act, Kerman returned to New York when work did not materialize. He planed to return to Italy, but labor laws prevented him from doing so. For his last Italian film role, a minor part in Umberto Lenzi's Cannibal Ferox (1981), he could not leave New York City to film any of his scenes.
Kerman resumed his work in the American porn industry until 1984 when he moved with his girlfriend to Los Angeles to break into mainstream acting. His last adult film was Corporate Assets, filmed in 1985, which was a big, production shot on location in the San Fernando Valley. By early 1986, he had more or less quit the adult film business to pursue acting roles in mainstream movies and television. He landed an agent and within three months signed a three-year contract to act. He appeared in five or six television shows in guest star roles, and had small but memorable parts in No Way Out (1987), and Night of the Creeps (1986). Then one day, his female agent fired him for no clear reason and, unwilling to get back in the porn business, Kerman returned to New York where by the early 1990s he dropped out of the acting business altogether, rarely working since.
In 1998, Kerman received a Lifetime Achievement Award at the Free Speech Coalition's annual Night of the Stars, a gala event for the adult film industry. In 2001, the theatrical re-release of Cannibal Holocaust brought Kerman out of his self-imposed retirement to promote the movie in Los Angeles. There, Sam Raimi asked him to audition for a role in the first Spider Man movie where Kerman played a New York tugboat captain in another small but memorable role.

All films with Robert Kerman here



Filmography:
1. Nena, Das geile Biest von nebenan N/A
2. Nena 5 – Das geile Biest von nebenan N/A
3. Anyone But My Husband (1975)
4. Lustful Feelings (1977)
5. Joint Venture (1977)
6. Teenage Runaways (1977)
7. The Sex Team (1977)
8. Odyssey (1977)
9. Skin Flicks (1978)
10. The Budding of Brie (1980)
11. American Desire (1981)
12. Little Darlin's (1981)
13. Outlaw Ladies (1981)
14. Amanda by Night (1981)
15. Debbie Does Dallas 2 (1981)
16. Manhattan Callgirls (1981)
17. Interlude Of Lust (1981)
18. Center Spread Girls (1982)
19. The Devil in Miss Jones 2 (1982)
20. Satisfactions (1982)
21. Society Affairs (1982)
22. Women In Love (1983)
23. Alexandra (1983)
24. Blue Voodoo (1983)
25. When She Was Bad (1983)
26. Great Sexpectations (1984)
27. Dr. Desire (1984)
28. Public Affairs (1984)
29. The Adventures of Rick Quick, Private Dick (1984)
30. Corporate Assets (1985)
31. Debbie Does Dallas 3 (1985)
32. Flesh and Ecstasy (1985)
33. Holiday for Angels (1987)
34. Bitches In Heat Volume 10 (1988)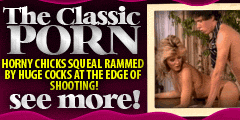 On the tour they invite you to check out sexy pictures from those porn movies. They take three screen captures from each scene and you??™re welcome to flip through them all to see what turns you on the most. A great deal of the porn is from the 1980s ??" that seems to be what they had easy access to ??" but they throw in some ???70s stuff as well for good measure. It??™s all surprisingly hot and it??™s fun to go back in time and see what things were like before the modern era of internet porn took over.