Ride 'Em Hard
Ride 'Em Hard
Year:
Studio: Western Visuals
Starring: Patricia Kennedy , Jennifer Gold , Jon Dough , Christina Appleighe , Stacy Nicholes , Tom Byron , Sean Michaels
Length: 1 hrs. 13 mins.
Genre: Classic
Jon Dough and Patricia Kennedy are a married couple who are deeply in love but faced with a distinctly disheartening problem. As beautiful and affectionate as she is, Victoria becomes detached when it comes to really getting down and dirty. The resulting sexual troubles are threatening to tear their marriage apart. Desperate for help, Patricia and Jon find Brigitte Aime, a specialist in the rare art of aphrodisiac conjuring. With Brigitte's hands-on help, Jon and Patricia are able to rekindle their marital ardor – and then some! Patricia discovers the sexual animal within her, while Jon learns what makes women tick. Ravishingly romantic and scorchingly sexy, Ride 'Em Hard delivers plenty of passion!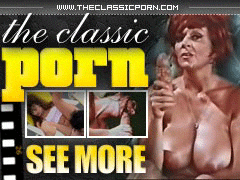 Classic porn doesn??™t exactly seem more innocent but the women seem more natural. There are very few girls with implants and facial surgeries seem less prevalent as well. It was a time when the industry attracted beautiful and slightly screwed up girls to come and fuck but they didn??™t insist on them getting huge implants. There was also less emphasis on super sloppy and drooling blowjobs, rough stuff like hair pulling and ass slapping and cumshots were less degrading. You might like all of that stuff but if that??™s the case then you??™re not destined to enjoy classic porn. Those of you that want to dial it back to a more innocent time of porn making (not quite innocent, but more innocent) then The Classic Porn should be a great site.