Night Vision
Night Vision
Year:
Studio: Wicked Pictures
Starring: Juliette Carelton , Felecia , Mickey Lynn , Tatiana (II) , Crayola Blue , Tony Tedeschi , Peter North , James Bonn , George Kaplan Writer , Jim Enright Director
Length: 1 hrs. 24 mins.
Genre: Classic
Welcome To The Future. It's the future and the digital age is upon us. Ever resourceful man has taken technology to the next step, with the manufacture of Human-Like droids to carry out mundane tasks, personal protection and even sex. They are the ultimate 'Pleasure Modules' with a memory bank of every conceivable perversion. So whatever your fantasy; Anal, Lesbian, three-way…your wish is their command.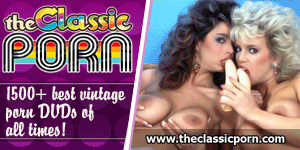 The porn industry really hit its stride in the 1970s. Deep Throat made gobs of money at the box office, John Holmes was fucking his way through the babes of the business and everyone was happy. They were pioneering the business of people screwing on film and there was a huge market for it. They made some terrific porn back then and there are now numerous sites dedicated to preserving that porn for use by future generations. The Classic Porn is one such site.