Mike Ranger
Date of birth: 31 October 1952
Alternate Names: Mike Carlson , Chuck Fabrae , Mike Fairmont , Mike Grainger , Peter Kurzon , Mark Ranger , Michael Ranger , Bob Sherman , Mike Stapp , Mike Steph , Mike Stepp , Michael Stewart , Mike Strong , Mike Wrangler .
Bio: Porn Star Mike Ranger was one of the first men in the industry who could truly be considered such. He was a good looking, well-built stud whose reliable performance skills were of the utmost importance in the pre-Viagra days of classic porn. Mike Ranger was the original porn Golden Boy, a well-liked stud who always seemed to land on his feet .
Mike Ranger first popped up in the porn ranks in 1974, performing in the short loops and low-budget grinders that made up the bulk of the industry. He emerged on the scene just as porn was entering its Golden Age, with fully plotted features that called on acting and sexual skills in almost equal measure. He was perfect for the time, with acting chops and a tireless, never-say-never approach to filming .
Mike kept busy throughout the 70s, appearing in flicks like 'Hot Raquets' and 'Pro Ball Cheerleaders.' He didn't really hit his stride until 1980, when he started landing roles in some of the industry's all-time classic productions. That year saw him star in 'Ultraflesh,' taking on Candida Royalle in a steamy and sensual scorcher. He also popped up in 'Insatiable,' getting down and dirty with Marilyn Chambers in one of the flicks's hottest romps .
In 'Taboo,' he starred as the teenage son obsessed with his busty mother Kay Parker. Mike Ranger sizzled his way through a quartet of scenes, including a fiery fling with Dorothy Lemay and a pair of blistering boffs with Parker. He romped with Nancy Suiter in 'Taxi Girls' and took on Seka in 'Seduction of Seka' — it's safe to say that Mike Ranger did scenes with most every luscious lovely from porn's Golden Age .
Not only that, but for a long time, he dated one of porn's prettiest gals. Mike Ranger and Loni Sanders were a hot item throughout Loni's stint in the business, and it's been said that she owed much of her popularity to the fact that she performed so often with Ranger. Their chemistry together is undeniable. Among their best videos together are 'Sex Boat' and 'Never So Deep,' where Mike not only takes on Loni, but gets down and dirty with Tara Aire, Brooke West, Sonya Summers and Victoria Slick, to boot .
Mike Ranger left the business in 1985, after easing his way out for a couple of years. He may not be the most well-known old school stud today, but in his time Mike Ranger took a back seat to no one in the industry. His lusty legacy is secure.

All films with Mike Ranger here



Filmography:
1. Very Best Of Kay Parker N/A
2. Peepshow Loops # 16: 1970's N/A
3. Kandi Barbour Collection N/A
4. Asian Sluts In The 1970's N/A
5. Peepshow Loops # 38 – 70's to 80's N/A
6. Lust at First Bite (1979)
7. Football Cheerleader (1979)
8. Seka's Anal Ecstasy (1980)
9. Tinseltown (1980)
10. Ballgame (1980)
11. Sweet Cheeks (1980)
12. Erotic World of Seka (1980)
13. Diamond Collection 5 (1980)
14. The Seduction of Seka (1981)
15. Erotic Interlude (1981)
16. Naughty Network (1981)
17. Any Time Any Place (1981)
18. Blue Confessions (1983)
19. Loving Lesbos (1983)
20. Blue Confessions (1984)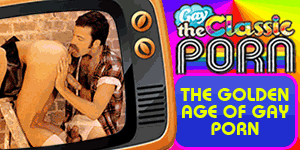 With updates two or three times a week, and with tons of movies from the golden age of porn, The Classic Porn does a great job of satisfying your classic smut cravings. It's too bad they limit the downloadable format to FLV, but once you get past that, it's a collection you don't want to miss.