Material Girl
Material Girl
Year:
Studio: Caballero
Starring: Nina Hartley , Shanna McCullough , Angel Kelly , Jerry Butler , Francois Papillon
Length: 1 hrs. 19 mins.
Genre: Classic
She Can Be Had, She Can Be Bad, All It Takes Is Money! (Lots Of It) When millionaire Howard Clughes goes looking for a house, he has in mind a little hideaway for his chesty mistress. However, Jane Tussell can't seem to keep anything hidden away, and she shows more than the house to prospective buyers. Howard has his eye – and his hands – on Bella, the beautiful assistant of the real estate agent. Harry and Bella are partners in bed as well as business, but they find time for mergers with many others along the way. Howard beds Bella while Harry and Jane tussle. Other house hunters hump happily and girls meets girl in this spirited bedroom romp!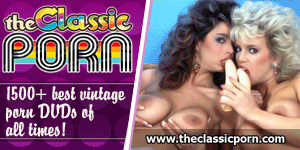 The porn industry really hit its stride in the 1970s. Deep Throat made gobs of money at the box office, John Holmes was fucking his way through the babes of the business and everyone was happy. They were pioneering the business of people screwing on film and there was a huge market for it. They made some terrific porn back then and there are now numerous sites dedicated to preserving that porn for use by future generations. The Classic Porn is one such site.