Lois Ayres
Date of birth: 24 May 1962
Alternate Names: Lana Alberts , Lois Ayer , Lois Ayers , Lonnie Harris , Sondra Stillman .
Bio: Porn Star Lois Ayres is a platinum blonde with mouth-wateringly ripe breasts, a lean and lithe body and the look of an oversexed trailer park cutie. Lois Ayres brings a street attitude to her performances — raw, enthusiastic, and always goading her partners on to greater erotic heights. Lois Ayres carved out a niche for herself in the porno world as a trashy, slutty nymphette who could dish it out as well as she could take it.
Lois Ayres started her career 1984 with appearances in several Hawaiian beach sexual odysseys like 'The Pink Lagoon: A Sex Romp In Paradise,' billing herself as Lois Ayres. She moved from her anonymous beginnings into the big leagues with her starring performances in the first Dark Brothers film, 1985's 'Let Me Tell Ya 'Bout White Chicks.' Lois Ayres showed off the flakiness that kept her from top stardom by no-showing for the second day of shooting, forcing the Darks to re-conceive of the film as episodic rather than the narrative they had written. Her utterly raw performances kept her busy, though, through starring roles in 'Devil In Miss Jones 3 and 04' and a few more Dark Brothers classics. Lois Ayres retired in the early 90's and was inducted into the AVN Hall of Fame in 1998 after sexing her way through over 100 features. Lois Ayres was one of the most balls-to-the-wall performers of the late 80's, and remains a favorite of fans of down-and-dirty, frantic sexual heat.

All films with Lois Ayres here



Filmography:
1. Swedish Erotica 25 N/A
2. Let Me Tell Ya Bout White Chicks (1984)
3. Panty Raid (1984)
4. Every Woman Has a Fantasy 2 (1985)
5. Virgin Heat (1985)
6. Dr. Strange Sex (1985)
7. Untamed Passions (1985)
8. Looking For Mr. Goodsex (1985)
9. Aerobics Girls Club (1986)
10. Baby Face 2 (1986)
11. The Devil in Miss Jones 3 (1986)
12. The Devil in Miss Jones 4 (1986)
13. Pumping Flesh (1986)
14. Doctor Penetration (1986)
15. Debbie Goes to College (1986)
16. Merry X Miss (1986)
17. Sin City (1986)
18. Nightshift Nurses (1987)
19. Pumping Irene 2 (1987)
20. Princess Charming (1987)
21. The Load Warriors (1987)
22. Debbie: 'Class of '88" (1988)
23. Screwdriver (1988)
24. Sharon Mitchell Non Stop (1989)
25. Women Without Men # 3 (1990)
26. Little Miss Curious (1991)
27. The Hindlick Maneuver (1991)
28. Erotica (1992)
29. Babe Watch (1993)
30. Kampf der Tier Frauen (1995)
31. Ejacula # 2 (1995)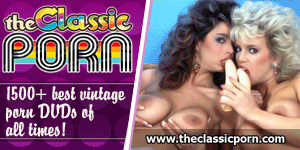 Renowned porn stars disclose tricks at The Classic Porn!