Immorals 2
Immorals 2
Year:
Studio: Arrow Productions
Starring: Lynn Lemay , Renee Summers , Lee Carrol , Joey Silvera , Jerry Butler , Viper , William Margold , Hank Rose , Alex Storm
Length:
Genre: Classic
The Good, The Bad and The Banged The all-American soap opera is given a raw and rousing scrubbing as "Immorals" gets underway. A penetrating, pulsating invasion of society's private thoughts and most decadent deeds. "Immorals" fondly focuses on the adventures of an outrageous, totally uninhibited family whose ever moment is spent perpetuating the images of hedonism. Indeed, herein is a world where the motto is "Screw unto others before they screw unto you".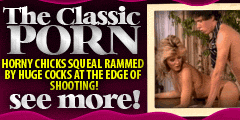 In the same way that some people prefer LP records to MP3s, there are those who love old-timey porn with its grainy images and scratchy sounds more than newer videos with clearer definition. There's something about seeing a less-experienced Nina Hartley in the days before her breast implants or watching Candy Samples fuck John Holmes in their glory days. If you love classic porn the way some people love classic rock, then you're going to love this site.