Female Athletes
Female Athletes
Year:
Studio: Video X Pix
Starring: Annette Haven , Desiree West , Johnny Wadd
Length: 1 hrs. 30 mins.
Genre: Classic
The delicious Annette Haven is our girl out to prove that women have equal standing with men in sports. Viewed through sexual athletes she meets, Annette is introduced to a group of athletic supporters that do more for men than any type of undergarment. Her success brings her just rewards as she secures the position as the head of a sports magazine. She celebrates her success in an orgy over-flowing with athletic exuberance. Female Athletes also features porn superstars Johnny Wadd and beautiful Desiree West.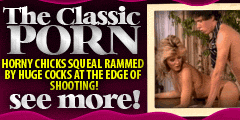 Porn the way it should be, combining intrigue and sex looking the 80s way