C.J. Laing
Date of birth: 1 August 1956
Alternate Names: Lisa Collins , Michelle Darling , Chris Jackson , C.J. Lainge , C.J. Lang , Jessy Lang , C.J. Lange , Jessie Savage , Gwen Star .
Bio: Porn Star C.J. Laing was one of the most exciting female faces in early hardcore. She starred in over 50 features and loops during the 1970's, making a name for herself as a white-hot sexer during porn's heady shot-on-film early days. C.J. Laing was a short-haired dark blonde vixen with an oh-so-sexy little figure. She had a real down-to-earth aura about her, coming across as an approachable young fun-lover who just happened to be earning money doing what came naturally.
C.J. Laing was a decent actress as well as an energetic sexer, and she turned in some fine performances in an era in which storytelling often rated of equal importance as lust. Some of her best work can be found in 1975's 'Anyone But My Husband,' where she starred as a perpetually neglected wife who has a string of affairs with local artists. C.J. Laing also shimmered with erotic intensity in 1975's 'Too Hot To Handle' as a swinging wife who picks up men on the streets of Times Square. One of her wildest features is 1977's 'Teenage Pajama Party,' where she takes part in a heated interracial threeway before taking on another huge black stud in a backdoor scorcher. C.J. Laing left the business in 1978, but continues to pop up on compilations of 70's starlets.

All films with C.J. Laing here



Filmography:
1. Anyone But My Husband (1975)
2. Taking Of Christina (1975)
3. Erotic Dr. Jekyll (1976)
4. The Affairs of Janice (1976)
5. Little Orphan Sammy (1976)
6. Ecstasy In Blue (1976)
7. Honeymooners (1976)
8. Unwilling Lovers (1977)
9. Barbara Broadcast (1977)
10. Odyssey (1977)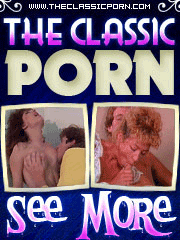 See that big bulge in the pants? Now see it naked, rock hard and fucking at the Classic Porn!