Busty Ladies In the 80's #4
More rare loops and scenes featuring the little known, but incredibly hot, bust starlets from the 1980's! You'll see amazing bra-busting, cock-stiffening action in scenes from Bra Busters and Pleasure Chest and loops from Diverse. It's better than anything that's come out since!
Stars:
Also Starring:
Anne Alli | Busty Belle | Desiree Lane | Gina Gianetti | Mona Page | Tina Marie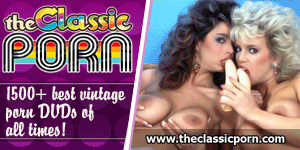 The porn industry really hit its stride in the 1970s. Deep Throat made gobs of money at the box office, John Holmes was fucking his way through the babes of the business and everyone was happy. They were pioneering the business of people screwing on film and there was a huge market for it. They made some terrific porn back then and there are now numerous sites dedicated to preserving that porn for use by future generations. The Classic Porn is one such site.