Annie Sprinkle
Date of birth: 23 July 1954
Alternate Names: Annie Sprinkle Ph.D , Anne Sands , Annie Sands , Anny Sands , Ann Sprinkle , Annie Sprinkles .
Bio: One of the kinkiest, most brazenly sexual women to ever step before the hardcore lens, Porn Star Annie Sprinkle has been doing her part for outspoken female sexuality since the 1970's. She brought a willingness to explore every type of sexual pleasure to 70's porn. Annie Sprinkle engaged in it all, from bondage to anal sex to groups to lesbianism to fetishes to latex and leather. Annie Sprinkle's busty figure seemed built for sex, and her fresh-faced good looks made her over-the-top wildness all the more enticing.
One of Annie Sprinkle's best films is her 1981 pseudo-documentary about herself, 'Deep Inside Annie Sprinkle.' The film offers up Annie Sprinkle in a wide range of sexual situations, including a mind-blowing deep throat routine with two lucky guys, a threesome involving Ron Jeremy, an all-girl orgy, even a golden shower sequence in 'Teenage Cover Girls.' 'Consenting Adults,' the early exploration of kinky sex, is another top Annie Sprinkle performance.
Annie Sprinkle continues to produce erotica when she's not serving as an advocate for free speech and free love. Her taste for kink has never subsided.

All films with Annie Sprinkle here



Filmography:
1. Veronica Hart: 4 Pack N/A
2. Mistress Candice Collection N/A
3. Huge Black Cocks N/A
4. The Annie Sprinkle Box Set: 4 Pack N/A
5. Annie Sprinkle's Private Moments N/A
6. Annie Sprinke Triple Feature # 2 N/A
7. Wet Crotch Saloon N/A
8. Call Me Angel, Sir! (1976)
9. The Affairs of Janice (1976) [ Facial ]
10. Expose Me Lovely (1976)
11. Ecstasy In Blue (1976)
12. Cherry Hustlers (1977) [ Fisting ]
13. The Devil Inside Her (1977) [ Facial, IR ]
14. Unwilling Lovers (1977)
15. French Shampoo (1978)
16. Satisfiers Of Alpha Blue (1980)
17. Pandora's Mirror (1981)
18. Sex Bizarre (1981)
19. Centerfold Fever (1981)
20. Throat: 12 Years After (1984) [ NonSex ]
21. The Horneymooners (1988)
22. Bazooka County (1988) [ LezOnly ]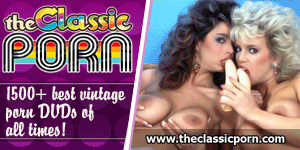 The porn industry really hit its stride in the 1970s. Deep Throat made gobs of money at the box office, John Holmes was fucking his way through the babes of the business and everyone was happy. They were pioneering the business of people screwing on film and there was a huge market for it. They made some terrific porn back then and there are now numerous sites dedicated to preserving that porn for use by future generations. The Classic Porn is one such site.